This is an archived article and the information in the article may be outdated. Please look at the time stamp on the story to see when it was last updated.
An intruder was shot, and a security guard was stabbed in the face right under his eye, when an altercation broke out at a multi-million dollar mansion in Malibu on Friday, officials confirmed.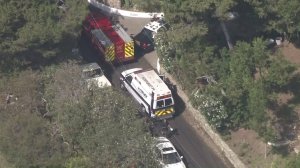 The shooting was reported about 11:05 a.m. at a home along the 4900 block of Puesta Del Sol in Malibu. The intruder was armed with a knife, entered the property by jumping over a fence and was confronted by the security guard, the Los Angeles County Sheriff's Department reported.
A fight broke out and resulted in the security guard shooting the intruder in the head, and the security guard being stabbed in the face right below the eye, officials said.
Construction workers doing a project across the street heard the security guard screaming for help and ran to intervene.
"It's kind of a crazy thing to happen out here in Malibu," neighbor Craig Moore told KTLA. "I guess it happens everywhere but we just don't ever have it happen in our neighborhood."
A neighbor told KTLA the mansion belongs to Model Miranda Kerr, who was previously married to actor Orlando Bloom. Neighbors also said Friday's incident was the second time police responded to an intruder call this week at Kerr's house.
Kerr was not home at the time of Friday's shooting.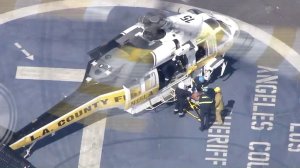 Both victims were airlifted to local hospitals for treatment. The intruder was listed in critical condition, a sheriff's official reported.
Sheriff's deputies were on scene investigating the shooting.
Correction: An earlier version of this story showed an incorrect photo of the house where the shooting took place. The post has been updated with a new photo of the scene.