This is an archived article and the information in the article may be outdated. Please look at the time stamp on the story to see when it was last updated.
An off-duty LAPD officer shot and killed a man who tried to rob him at a Carl's Jr. in Covina on Wednesday afternoon, police said.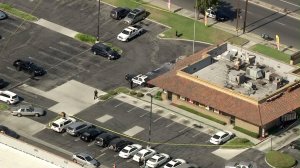 The shooting took place at a location of the burger chain at 573 N. Azusa Ave. at 3:15 p.m., Covina Police Department Sgt. Gregg Peterson said.
The man killed had tried to rob the off-duty officer, who in turn shot and killed the suspect, Peterson told KTLA.
Peterson later said on Twitter that an "off-duty LAPD Reserve Police Officer" shot and killed the armed individual, who had brandished a gun inside the restaurant.
The man was pronounced dead at the scene, Peterson said.
Peterson did not initially give the gender of the officer or the suspect, but later confirmed both were male.
Los Angeles Police Department Officer Tony Im said an LAPD spokesperson was headed to the scene in Covina early Wednesday evening. Im did not have any details about the officer involved.
An off-duty LAPD Reserve Police Officer shot and killed an armed suspect who brandished a handgun inside a Covina restaurant @covinapd

— Gregg Peterson (@COUSD_GPeterson) July 7, 2016
KTLA's Scott Williams contributed to this article.