This is an archived article and the information in the article may be outdated. Please look at the time stamp on the story to see when it was last updated.
One person was found dead and another was hospitalized after a home in Norwalk caught fire Friday morning.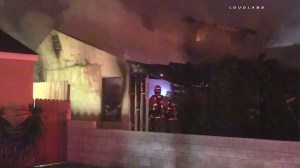 Firefighters arrived to find a two-story home in the 14000 block of Dumont Avenue fully engulfed in flames after being alerted to the fire at 3:09 a.m., said Humberto Agurcia of the Los Angeles County Fire Department.
Video showed a portion of the roof had collapsed amid the flames.
One person found outside the home told firefighters someone was still trapped inside, Agurcia said.
Due to the possibility of further collapse, firefighters weren't immediately able to locate the person, according to Agurcia.
Efforts to gain entry into the home continued, and it was later confirmed that the person inside the home had died, said Randall Wright of the Fire Department.
A second person was taken to the hospital with minor respiratory issues.
Witnesses said they heard explosions coming from inside the house.
"A big old boom — it vibrated the house a little bit, the windows," neighbor Jenny Lujan said. "I had no idea what it was, until I finally came out. Flames were way up high. It was very scary."
The cause of the explosions was unclear, but firefighters did find oxygen tanks inside the home.
"When they come under heat, they're going to have that problem," Agurcia said.
Neighbors said two brothers, both middle aged, lived in the home, and the oxygen tanks may have belonged to their mother, who also lived at the home until she died about six months ago.
There was no immediate word on what caused the fire.