This is an archived article and the information in the article may be outdated. Please look at the time stamp on the story to see when it was last updated.
A 2-year-old boy has died after a family member accidentally struck the child with an SUV in Fontana Tuesday morning, one day after his birthday.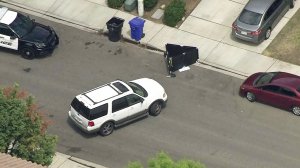 Officers responded to a report of a crash involving a vehicle and pedestrian in the 16500 block of El Revino Drive around 10:20 a.m., according to a Fontana Police Department news release.
The boy had apparently followed a relative out of the home and was hit when the family member backed up the vehicle, a white Ford Expedition, according to police.
"Seems like a family member … went to move the vehicle. There was something taking place in the house this morning where the child — it appears that unfortunately he followed the family member outside and the … collision occurred," said Fontana Officer Jay Sayegh.
Police won't confirm who ran over the child, but residents told KTLA it was his grandmother, who had just stopped by the home.
A nurse who lived across the street ran over and performed CPR on the little boy.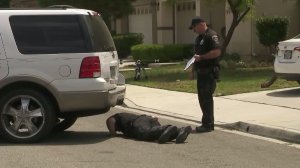 Life-saving measures continued on the little boy once first responders arrived, but he succumbed to his injuries and was pronounced dead at the scene, police said.
Sky5 aerial video showed the boy's body covered by a sheet, in the middle of some sort of triangular barrier that was set up near the driveway of a home. The Expedition could be seen stopped in the middle of the road.
He has not yet been identified; police initially said the boy was 1, but one neighbor told KTLA he had just turned 2 the day before.
"I was really just heartbroken after that. I don't know how to express myself because that's somebody's little kid," Joshua Keith said. "This kid just had a birthday yesterday."
Two men could be seen outside the home, sobbing and consoling one another after the boy's deaths. It was unclear if they were related to the child.
The incident is being investigated as an accident.