This is an archived article and the information in the article may be outdated. Please look at the time stamp on the story to see when it was last updated.
Three hundred firefighters on Sunday evening were battling a 100-acre brush fire that erupted in Big Bear near Snow Summit Ski Resort and prompted mandatory evacuations in the area, authorities said.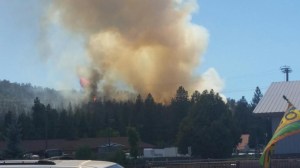 The Summit Fire broke out near Pine Knot Avenue and Knickerbocker Road around 12:30 p.m., and within an hour had grown to 10 acres, the San Bernardino County Fire Department said.
By 6:45 p.m., it had scorched 100 acres and was 30 percent contained, according to the San Bernardino National Forest's Twitter account.
Mandatory evacuations were issued for the area from Knickerbocker Road east to Georgia Road, and south of Pennsylvania Road to the forest boundary, according to InciWeb, a multi-agency incident website.
"I have full faith in the firefighters up here," said a longtime Big Bear resident who gave his name as Michael. He declined to leave his neighborhood despite the evacuation order, saying in an interview that he didn't believe the fire was "going to go much further than it is."
Voluntary evacuations were in place for the area south of Brownie Lane, east of Thrush Drive, north of Switzerland Drive and west of Summit Boulevard.
Four hundred to 500 homes were threatened by the fire, said Travis Mason, spokesman for the U.S. Forest Service. There were no immediate reports of injuries.
Fourteen evacuees had registered at the American Red Cross shelter that was set up at the Big Bear Lake Convention Center, located at 42900 Big Bear Blvd., officials said.
Small animals could be taken to San Bernardino County's Devore Animal Shelter at 19777 Shelter Way in San Bernardino.
Four forest roads, 2N06 (Radford), 1N54 (Clarks Grade), 2N93 (Wildhorse) and 2N10 (Skyline) were  also closed because of the blaze, InciWeb stated.
By the evening, four fixed-wing air tankers and four helicopters were dropping retardant and water on the flames, according to the website. Twelve engines, five fire crews, a bulldozer and water tender were also at the scene.
"The fact that we're able to have as many aircraft and as many air drops as we have today has played a significant role to get the fire contained," said Forest Service spokeswoman Gerrelaine Alcordo.
The fire was burning through a combination of timber and brush, and flames were spreading at a moderate rate in moderate to heavy fuels, InciWeb reported.
The temperature in the area was 80 degrees after the blaze began, with humidity at 15 percent and lights winds with speeds of 5 to 8 mph blowing from the southwest.
The Bear Valley Unified School District announced that all of its campuses, with the exception of Fallsvale School, would be closed Monday.
The cause of the fire was under investigation.
[wpvideo NydrXMqD]
@CAL_FIRE pic.twitter.com/V0VRu4hath

— CAL FIRE BDU (@CALFIREBDU) August 23, 2015
#SummitFire tanker making retardant drop image courtesy @bensweather pic.twitter.com/BRBAuLmxxW

— San Bernardino National Forest (@SanBernardinoNF) August 23, 2015