This is an archived article and the information in the article may be outdated. Please look at the time stamp on the story to see when it was last updated.
Ten alleged members of the Sureños gang have been charged for their roles in seven killings, accused by prosecutors of engaging in a criminal enterprise that targeted suspected rivals and sought to maintain control of drug sales in San Francisco's Mission District.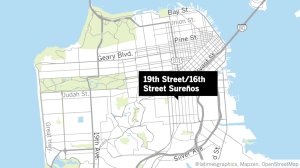 According to a grand jury indictment, the men have been longtime members of two closely affiliated gangs, the 19th Street Sureños and the 16th Street Sureños. The dead include suspected gang rivals, including a 16-year-old fatally shot at a birthday party in the East Bay city of Richmond in 2009; some suspected rivals have been left paralyzed after being shot.
The indictment alleged that members of the 19th Street/16th Street Sureños gang commit strong-arm robberies and assaults and "engage in violence together to defend their collective territory against rival gangs." The drugs allegedly sold by some of the defendants include crack cocaine, cocaine powder and heroin.
The charges followed an investigation that included the U.S. attorney's office, U.S. Immigration and Customs Enforcement's Homeland Security Investigations arm and the San Francisco Police Department.
Read the full story on LATimes.com.