This is an archived article and the information in the article may be outdated. Please look at the time stamp on the story to see when it was last updated.
SANTA MONICA, Calif. (KTLA) — The westbound 10 Freeway was shut down in Santa Monica on Friday morning after a fatal crash caused by a wrong-way driver, authorities said.
It happened around 1:15 a.m. on the westbound 10 at Centinela Avenue, near the 405 Freeway interchange.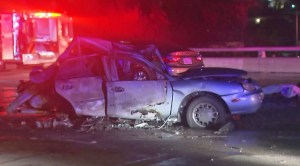 Several people were injured and one person was killed in the crash, according to the California Highway Patrol.
A red Pontiac was was traveling eastbound in the westbound lanes when it crashed into a Ford, CHP officials said.
The Ford, which was carrying four teenage occupants, caught fire after the collision, according to authorities.
Three of the occupants of the Ford were able to get out of the vehicle.
They were trying to free one person who was trapped inside when another vehicle, a Hyundai, hit their car, striking and killing one person, officials said.
The driver of the Hyundai, identified by the CHP as Kenneth Weimer, was arrested on suspicion of driving under the influence.
After the initial crash, the Pontiac plunged off the freeway and rolled down an embankment.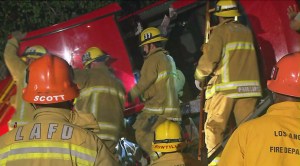 Firefighters had to cut the roof off the car to extricate the driver, identified as Jaime Herrera. He was transported to the hospital with significant injuries.
Herrera was also arrested on suspicion of driving under the influence, authorities said.
"We were going to Santa Monica and then we saw a vehicle coming the wrong direction and we swerved," said witness Stephanie Mejia.
"Our friend was right behind us so it hit them and it made the car turn. I ran back to all my friends, and all three of them were out except one," she said.
"We were trying to pull him out and when he was half-way a car came and it hit him again and it blew out, it blew up," she said.
Debris was scattered across the roadway, and all the westbound lanes were closed for several hours.
The two left lanes were reopened around 6:30 a.m. The remaining lanes opened shortly after 7 a.m., but traffic remained slow.
Drivers were advised to take National or Pico boulevards or Washington Avenue as alternates.