This is an archived article and the information in the article may be outdated. Please look at the time stamp on the story to see when it was last updated.
A fiery crash involving a big-rig and several other vehicles killed at least five people early Friday afternoon in Rialto, leaving both directions of the 10 Freeway closed for hours, officials said.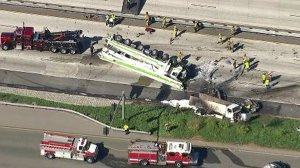 The big rig was traveling westbound on the 10 shortly before 1 p.m. when, for an unknown reason, it veered toward the median, crashed through the guardrail and burst into flames near the Riverside Avenue exit, according to CHP Officer Brian Alvarez.
The massive vehicle, apparently a concrete pump truck, continued to travel across all eastbound lanes, striking multiple other vehicles, he said.
At least five people were killed in the chain-reaction crash, according to CHP.  An unknown number of vehicles caught fire, Alvarez said.
The driver of the big rig sustained minor injuries and was taken to the hospital, where he was being interviewed by authorities.
CHP Officer Steve Carapia told KTLA five vehicles were involved, including a motorcycle. The agency's incident log initially indicated the total number of vehicles could be up to eight.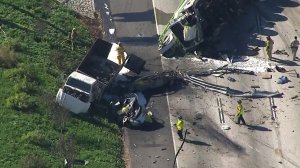 The crash site spanned all lanes of the eastbound 10, with the big rig overturned and a dump truck on a grassy area on the side of the roadway. Two cars appeared to be totaled, Sky5 aerial video over the scene showed.
First responders are still searching the scene for possible additional victims, according to Carapia.
"In my 10 years, it's probably the most horrific I've been to," he said.
Around 1:40 p.m., CHP indicated the eastbound lanes would be closed for eight to 10 hours, while westbound lanes reopened around 6:30 p.m.
As of 10 p.m., the eastbound 10 Freeway remained shut down in the area; all lanes were expected to be closed for several more hours and likely into the following morning, officials said.
CHP is urging drivers to avoid the 10. To get around the crash, westbound motorists can take the 215 Freeway north to the 210 or south to the 60, Alvarez said. Eastbound travelers can take the 15 Freeway north to the 210 or south to the 60.
Anyone who recorded dashcam video of the crash was asked call CHP at 909-383-4247.
Update- I-10, both directions still closed. Utilize alternate routes. Anyone with dash cam video, call San Bernardino CHP at 909-383-4247 https://t.co/rmf8DXYBy8

— CHP Inland Division (@CHPInland) February 16, 2018
KTLA's Jennifer Thang and Matt Phillips contributed to this story.