This is an archived article and the information in the article may be outdated. Please look at the time stamp on the story to see when it was last updated.
Ten people were hurt, including five who suffered major injuries early Friday afternoon when a car plowed into a San Francisco bus stop in an apparent chain-reaction crash, according to authorities.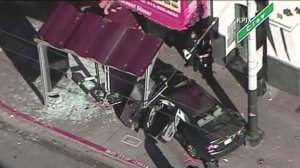 The crash happened in the area of Stockton and Sacramento streets shortly before 2 p.m., the San Francisco Fire Department tweeted.
Initially, eight people were reported to be injured before the figure was revised to 10 victims.
Those with major injuries were transported to San Francisco General Hospital, according to Bay Area television station KPIX. Their conditions were not immediately known.
The other victims were taken to different local hospitals, according to KPIX.
Aerial video over the scene showed a black sedan had crashed into the bus shelter. Shattered glass could be seen all over the ground.
The female driver stayed at the scene and is cooperating with the investigation, the station reported.
A San Francisco Police Department spokeswoman told KPIX the crash was apparently accidental.
The vehicle was traveling down Stockton when it lost control, hit a parked car and then another one that was moving before crashing into the bus stop.
The cause of the crash remains under investigation, and no additional information was immediately available.
#121616RA1 MAJOR COLLISION VEH INTO BUS STOP RED ALERT FOR 10 reported victims 5 major injuries AVOID THE AREA SFPD LEAD PIO 1300 Hrs pic.twitter.com/ySAFsR9yrj

— SAN FRANCISCO FIRE DEPARTMENT MEDIA (@SFFDPIO) December 16, 2016