This is an archived article and the information in the article may be outdated. Please look at the time stamp on the story to see when it was last updated.
A 10-year-old girl who was airlifted from Six Flags Magic Mountain in Valencia after losing consciousness on a roller coaster Friday has died, an official confirmed Monday morning.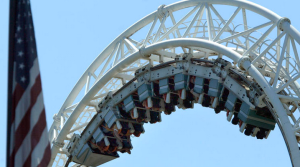 The girl, identified as Jasmine Martinez from Somis by the Los Angeles County coroner's office, was riding on Revolution and was unconscious but breathing when she returned to the ride station on Friday.
Paramedics were called to the scene about 4 p.m. and took the girl by helicopter to a local hospital, a spokesperson for the Los Angeles County Fire Department said.
On the day of the incident, state investigators determined the cause was not related to the operation of the ride and it was reopened, according to a statement from Magic Mountain.
"There is no evidence to suggest that this was in any way ride related.  We do not know if there was a pre-existing condition," the statement read, in part.
Martinez died at the hospital on Saturday and an autopsy was pending, Ed Winter of the coroner's office said Monday.
In compliance with state guidelines, the ride was temporarily closed again Monday pending a review, the theme park stated.
"Our thoughts and prayers are with Jasmine's family and friends during this difficult time," the statement from Magic Mountain read.
More than 45 million people have safely ridden Revolution since it was opened in 1976, according to the theme park.
Late Monday, state investigators cleared the roller coaster for operation, according to park spokeswoman Sue Carpenter.
KTLA's Jennifer Thang contributed to this report.
Correction: A previous version of this article included a photo of the incorrect roller coaster. This story has been updated to include an image of Revolution.