This is an archived article and the information in the article may be outdated. Please look at the time stamp on the story to see when it was last updated.
NORTHRIDGE, Calif. (KTLA) — The search for two suspects continues after a 10-year-old girl was abducted from her home in Northridge on Wednesday and later found safe.
At a news conference Wednesday evening, police described one of the suspects as an 18-year-old white male. No description was given for the second male.
In addition to the two suspects, two different vehicles were reportedly involved in the crime.
A black pick-up truck has been recovered and is being processed for evidence.
According to investigators, it appears the girl was taken to several locations, including a vacant house, a storage facility and a school, all within blocks of each other.
Police do not believe that the girl had any connection to her abductors in terms of previous contact.
"I've got a young lady that was abducted, I don't know the reason," said Los Angeles Police Department Capt. William P. Hayes.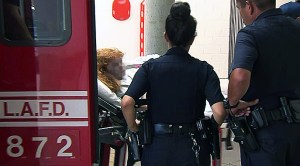 The 10-year-old was located about 2:50 p.m. Wednesday near Oxnard Street and Canoga Avenue.
It's believed she was dropped off at Kaiser Permanente Medical Center in Woodland Hills, about six miles from her home.
She was seen wandering in a nearby parking lot and recognized by a bystander, who pointed her out to police on patrol.
Police and fire personnel were called, and they transported the girl by ambulance to West Hills Hospital to be checked out.
Authorities said she was in shock, and was suffering from facial bruising and lacerations.
She was barefoot and was not dressed in the same clothing she was last seen wearing at home.
Police are now reviewing surveillance video from businesses in the area for clues.
A manager of a nearby animation studio, who saw the girl when he went to a gas station next to Starbucks, told the L.A. Times the girl looked drained.
"Her face was white. She looked very tired and worried," said Nicolas Jackson, manager of Moonscoop, told the newspaper.
"You could see she had some worries for the past few hours," he said.
The girl was reported missing by her parents from her home in the 8800 block of Oakdale Street around 3:50 a.m. Wednesday.
The girl's mother told police that she saw her in her room about 1 a.m.
She checked on her again around 3:30 a.m. because she noticed the bedroom door was ajar, and the child was gone. She searched the entire house and then called police.
KTLA is no longer identifying the girl by name or in images that had been released by authorities.
Anyone with information on the case is asked to call the LAPD hotline at 213-486-6890.