This is an archived article and the information in the article may be outdated. Please look at the time stamp on the story to see when it was last updated.
Crime Stoppers is offering a $1,000 reward for information on the whereabouts of a stolen car and a 300-year-old cello stored inside, police said.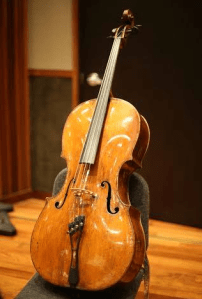 The car — a maroon four-door 2007 Acura TL — was stolen Nov. 1 from the Embassy Suites Hotel parking lot, at 800 N. Central Ave. in Glendale, said Glendale Police spokeswoman Tahnee Lightfoot.
The cello, a valuable family heirloom, was stored in the trunk. Police did not release details on its worth.
A natural wood color, the cello has an asymmetrical carbon fiber tailpiece with a cutout design and an f-hole labeled "Antonio Domenicelli Fecit en Ferrara 1714."
Click here to read the full story on LATimes.com.