This is an archived article and the information in the article may be outdated. Please look at the time stamp on the story to see when it was last updated.
Some residents affected by a wildfire burning in the Santa Clarita area were allowed to return home Monday evening as firefighters continued to battle the blaze that has scorched more than 35,000 acres, or about 55 square miles in the Angeles National Forest.
Most evacuations were lifted at 7 p.m., except for homes on Placerita Canyon Road from Running Horse Lane to Pacy Street and Little Tujunga Canyon Road from the Wildlife Way Station to Sand Canyon Road and Placerita Canyon Road. Areas in Agua Dulce also remained under evacuation orders Monday.
The areas were only be open to residents, who had to provide identification, officials said. Large animals were also be allowed to return.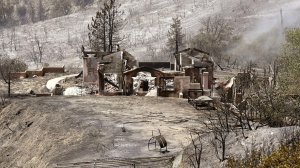 The Sand Fire has destroyed 18 homes and left one person dead since it first broke out Friday afternoon near Highway 14 and Sand Canyon Road.
The blaze flared up in deep canyon areas Monday and burned in thick brush, Battalion Chief Marc Peebles, spokesman for the Southern California Interagency Incident Management Team, said during an evening news conference.
Winds picked up during the day, but later died down, causing an increase in acreage, which was announced about 6:30 p.m.
He asked residents affected by the fire to be patient as firefighters hope to increase containment overnight.
Nearly 3,000 firefighters were battling the blaze, which jumped Placerita Canyon and moved north toward the Via Princessa area Sunday evening.
Winds suddenly picked up Sunday and pushed the fire in three directions — north toward Agua Dulce, east toward Acton and west toward Santa Clarita — according to Los Angeles County fire Deputy Chief John Tripp.
At a Monday morning news conference, Tripp said he believed firefighters had saved at least 2,000 homes in the path of the fire.
"We fought all day to try to contain that and try to protect all those structures. We had a lot of people that had to run out, and we had a lot of us having to run in," Tripp said. "Conditions are very extreme."
A man's body was found in a burned car by firefighters in the 26700 block of Iron Canyon Road on Saturday evening. A neighbor of the victim told KTLA the man had been separated from his significant other while the pair were evacuating.
Los Angeles County Sheriff's Department Capt. Roosevelt Johnson said Monday that the case was still under investigation and he could comment on whether there was any foul play.
"The fire was so hot on the day that they discovered the person that they had to come back hours later to finish up their investigation," Johnson said. "That area is kind of still smoldering."
A significant amount of vegetation fueling the fire is 30 years old, Incident Cmdr. Mike Wakowski said.
"They've created explosive conditions, and that's what you saw yesterday: the fire moving very fast," Wakowski said.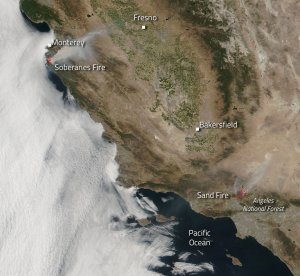 The fire has averaged about 10,000 acres per day and has been particularly explosive in the afternoons, Wakowski said, comparing an acre to the size of a football field.
"Imagine that: 10,000 football fields a day," he said.
The blaze was visible from space, according to a satellite image released by NASA on Monday that showed the Sand Fire, as well as the 15,000-acre Soberanes Fire burning near Big Sur.
Since Sunday, there was no increase in the size of the fire, which has burned 33,172 acres, or the 10 percent containment figure, Monday morning on the federal InciWeb information page dedicated to the Sand Fire.
About 10,000 homes and 200 commercial structures were ordered to evacuate due to the fire, Peebles said.
Fire officials repeatedly urged people to evacuate immediately when told to do so. About 146 deputies were patrolling the area, Johnson said.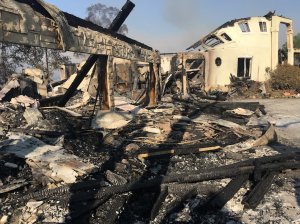 Evacuation centers were set up at Highland High School — located at 39055 25th Street West in Palmdale, Hart High School — located at 24825 N. Newhall Ave. in Santa Clarita, and the Lakeview Terrace Recreation Center — located at 11075 Foothill Blvd. in Lakeview Terrace.
Large animals can be taken to the Antelope Valley Fair Grounds located at 2551 W. Avenue H in Lancaster.
Several road closures remained in effect Monday:
Sand Canyon and Soledad Canyon – no entry into Sand Canyon.
No access to Sand Canyon at northbound 14 Freeway.
Sand Canyon and Lost Canyon – no traffic into Sand Canyon.
Placerita Canyon and the 14 Freeway – no traffic into Placerita Canyon.
Soledad Canyon Road eastbound from the 14 Freeway.
Agua Dulce Canyon Road eastbound from the 14 Freeway.
Crown Valley Road eastbound from the 14 Freeway.
Sand Canyon Road east of Placerita Canyon to 12300 Little Tujunga.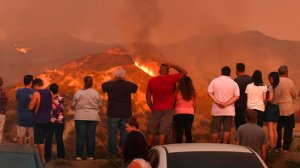 Metrolink service on the Antelope Valley line to Los Angeles was only expected to operate between Via Princessa and Los Angeles on Monday.
The cause of the fire was under investigation.
Anyone wishing to help fire victims can donate to the American Red Cross at www.redcross.org/donate.
Residents looking for additional info on the Sand Fire can call the information hotline at 626-574-5208.
KTLA's Cindy Von Quednow contributed to this story.