This is an archived article and the information in the article may be outdated. Please look at the time stamp on the story to see when it was last updated.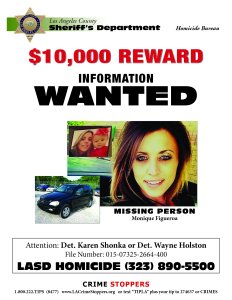 The last time authorities received a tip about the missing mother's whereabouts, they responded to a bleak and dusty address on the outskirts of Palmdale earlier this month.
Led by cadaver-sniffing dogs, homicide detectives with the Los Angeles County Sheriff's Department and investigators with the Los Angeles County Medical Examiner-Coroner dug into the desert floor, searching for Monique Figueroa's remains.
"But the search met with negative results," said Deputy Lillian Peck, a sheriff's department spokeswoman.
Out of leads, detectives have announced a $10,000 reward they hope will renew tips regarding the woman's yearlong disappearance.
Click here to read the full story on LATimes.com.