This is an archived article and the information in the article may be outdated. Please look at the time stamp on the story to see when it was last updated.
Authorities announced a $10,000 reward and released surveillance video Thursday as they asked the public for help in their search for a man they believe is responsible for at least eleven armed robberies throughout various cities in Southeast Los Angeles County.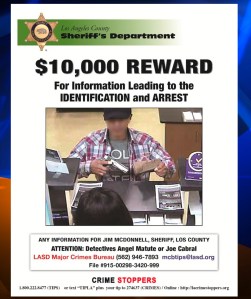 The man dubbed the "Band Aid Bandit" has "terrorized the employees of various cell phone stores, banks and jewelry stores in cities such as Norwalk, Paramount, Hawaiian Gardens, Bellflower, Lakewood, Bell Gardens, and Long Beach," Lt. Martin Rodriguez of the Sheriff's Department's Major Crimes Bureau stated in a news release.
Surveillance video released during a news conference on Thursday showed the "Band Aid Bandit" robbing a cell phone store in the City of Bell Gardens on June 19.
The bandit's face appeared to be blurred in a separate image released by authorities announcing the $10,000 reward and asking the public for help in identifying him.
"We don't want to taint or compromise the investigation but we want to release as much information as we can regarding the suspect" Rodriguez said in regards to the blurred image.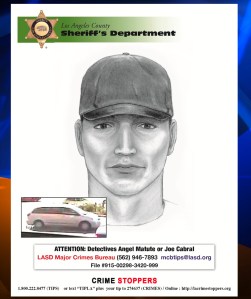 The man described as a "serial armed robber" has progressively become more aggressive and hostile during the series of robberies, which began in March 2014 and have continued until his last known robbery in April of this year, according to Rodriguez.
None of the victims were physically injured during the robberies, but authorities are concerned someone will be harmed if the robber is not captured soon.
"We are asking the members of our community to closely examine the composite sketch and the video released today," Rodriguez stated.
The total losses for the eleven armed robberies exceeds $136,000, according to the Sheriff's Department.
Anyone with information was asked to contact the Major Crimes Bureau at 562-946-7893.
Those wishing to remain anonymous can call "LA Crime Stoppers" at 800-222-TIPS (8477).
More video: