This is an archived article and the information in the article may be outdated. Please look at the time stamp on the story to see when it was last updated.
All lanes were reopened on the 101 Freeway in Westlake Village early Monday after a fiery crash involving a semitrailer, authorities said.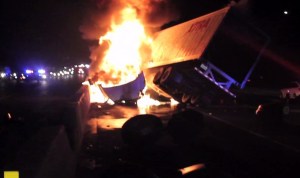 The big rig was traveling eastbound on the freeway on Sunday about 9 p.m. when it slammed into the center divider at Lindero Canyon Road (map), near Thousand Oaks, according to the California Highway Patrol. The vehicle then became engulfed in flames.
No one was injured in the collision, a spokesman for the Los Angeles County Fire Department said.
A SigAlert was issued, and all lanes on the freeway were initially closed, the CHP said. Hours later, the westbound lanes were reopened, but the eastbound lanes remained closed.
The SigAlert was canceled around 4 a.m. and the entire freeway was reopened.
News video showed traffic backed up for miles on both sides of the highway in the immediate aftermath of the incident.