This is an archived article and the information in the article may be outdated. Please look at the time stamp on the story to see when it was last updated.
The portion of the 101 Freeway in Santa Barbara County that was blocked for two weeks by debris and soil left by an onslaught of deadly mudslides has finally reopened, Caltrans officials said in a tweet Sunday.
That section of the freeway is a major route for commuters traveling up and down the coast, particularly in the areas between Ventura and Santa Barbara counties where other highways are further inland. It closed in the aftermath of mudslides that killed 21 people, including children.
Describing the freeway's cleanup as a "Herculean effort," Caltrans officials tweeted side-by-side photos of the 101 Freeway in Montecito covered in 12 feet of mud, water and debris just 12 days ago and a photo of its current state.
In the first photo, piles of pieces of wood, what appears to be garbage and other bits of debris can be seen sitting atop a thick, dark-colored layer of sediment that covers the entirety of the freeway. The next photo shows the highway now cleared, back to its normal coloring after crews spent weeks digging it out of the mud.
What a Herculean effort: #Hwy101 at Olive Mill Road in #Montecito was under 12 feet of mud, debris & water 12 days ago. pic.twitter.com/tveUibcPub

— Caltrans District 5 (@CaltransD5) January 21, 2018
The agency said on Saturday the highway would be open to drivers on Monday, but it appears officials were able to get it safely cleared even sooner.
The mudslides — which killed 21 while two still remain missing — were spurred by a period of heavy rains that flooded areas left vulnerable to moving debris and soil after being scorched by the Thomas Fire, a wildfire that swept across Ventura and Santa Barbara counties before being named the largest wildfire in the state's modern history.
The most recently recovered victim of the mudslides is a 28-year-old woman named Faviola Benitez Calderon, whose body was discovered by a search dog on Saturday morning, officials said. Calderon's 10-year-old son, 3-year-old cousin and the 27-year-old mother of that cousin also died in the natural disaster.
Other nearby roadways were also impacted by the mudslides, as the 166 Freeway near Maricopa had been closed off until reopening on Jan. 19, Caltrans officials said in a tweet.
Great news: #Hwy101 is now OPEN thru #Montecito @SBCounty! Thanks to our crews & contractors who made it happen. Off-ramps in area remain closed so watch for truck traffic & use extra caution. Safe travels, everyone. pic.twitter.com/thC429v6kM

— Caltrans District 5 (@CaltransD5) January 21, 2018
The closure of the 101 Freeway, a major route for commuting between Ventura and Santa Barbara counties, was particularly tough on commuters since alternate route between those areas could take several hours.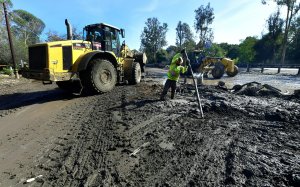 A ferry service between the two counties was even set up by some local boating companies to get people up and down the coast by water instead of ground.
"Some people are in desperate need to get to their loved ones, to work," Cherryl Connaly, the owner of one of the boating companies, told KTLA.
She said the ferry service, being offered in part by her Ventura company, Island Packers, would stop once the freeways are reopened.