This is an archived article and the information in the article may be outdated. Please look at the time stamp on the story to see when it was last updated.
The demolition of the Sixth Street Bridge in downtown Los Angeles, and a commensurate shutdown of a section of the 101 Freeway, was proceeding ahead of schedule Saturday morning and the roadway may reopen four hours earlier than planned, officials said.
Dubbed the "101 Slow Jam," the planned 40-hour undertaking got underway at 10 p.m. Friday when the 2.5-stretch of the freeway was closed in both directions. All lanes were initially expected to be reopened by 2 p.m. Sunday — about 90 minutes before the kickoff of Super Bowl 50 — according to a timeline posted on the project's official website.
Updated estimates predicted the roadway would actually reopen at 10 a.m. Sunday — four hours ahead of schedule, said City Engineer Gary Lee Moore Gary Lee Moore said.
The demolition of the iconic bridge — which has been featured in several notable films, television series and commercials— began on the east side of the Los Angeles River, directly over part of the 101.
As workers operated jackhammers and bulldozers as part of the demolition Saturday, the freeway remained closed between the 10 Freeway, near Union Station, and the 5 Freeway interchange south of downtown.
"I'm very happy to say that we are on schedule — that's the key," Moore said at a morning news conference held at the work site. "And we're safely on schedule. We've had no accidents."
The 84-year-old viaduct was officially closed to traffic last week. It is expected to be replaced by a new bridge whose completion date was set as late-2019.
The following ramps are scheduled to remain be closed until the Sunday reopening:
Northbound Sixth Street/Whittier Boulevard

Northbound Euclid Street

Northbound Soto Street to the 101 Freeway

Southbound Commercial Street

Southbound Mission Street

Southbound Fourth Street
The Los Angeles Police Department warned of possible traffic congestion as a result of the shutdown.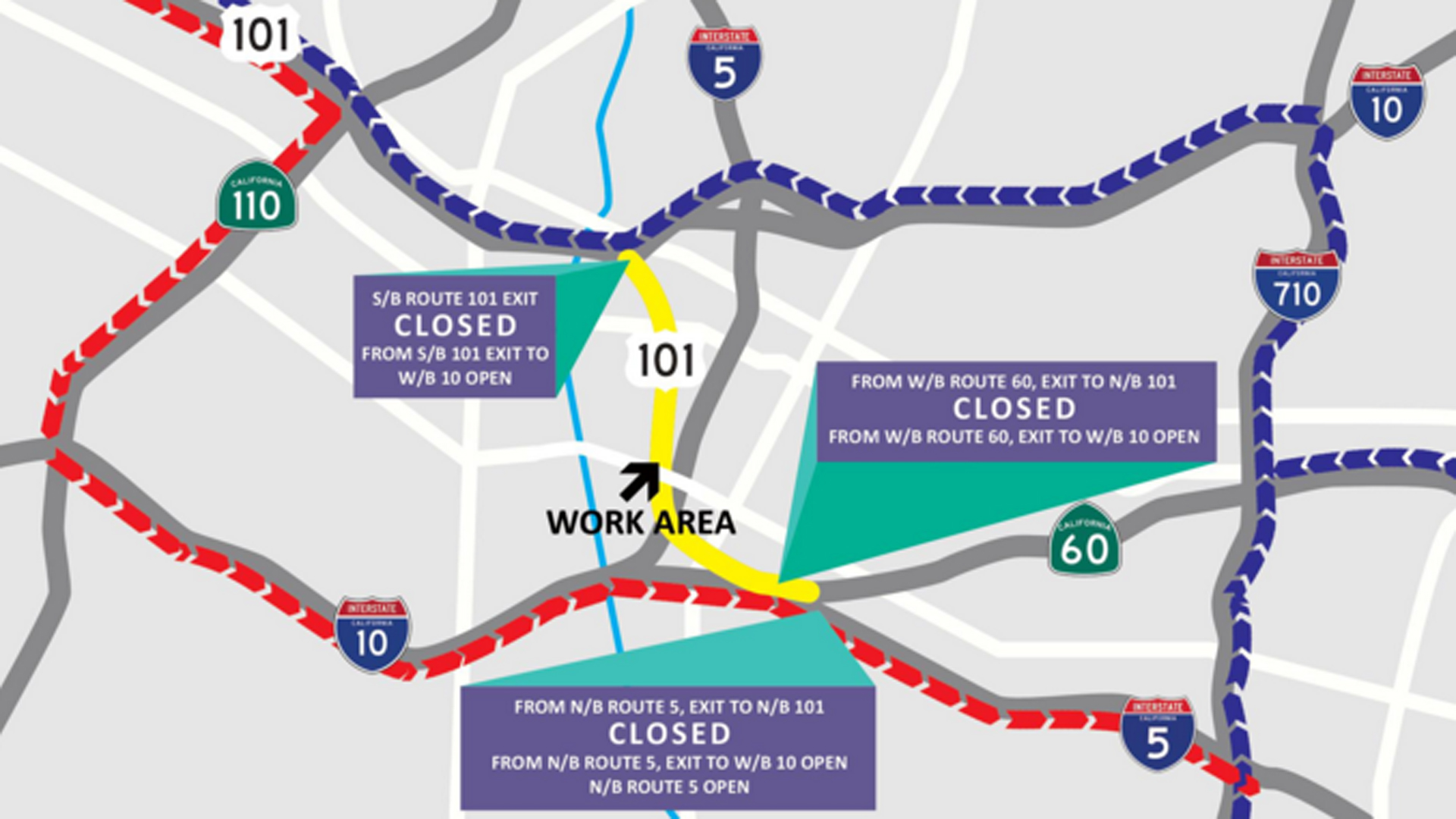 KTLA's Ashley Soley-Cerro contributed to this report.