This is an archived article and the information in the article may be outdated. Please look at the time stamp on the story to see when it was last updated.
More than 100 arrests were made in Castaic Thursday night following an illegal street racing crackdown near an industrial complex.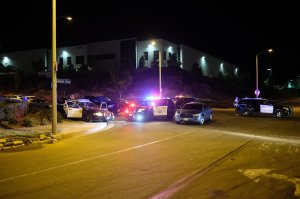 The operation was conducted near Witherspoon and Avenue Penn at a complex that houses thousands of workers during the day, but turns into a ghost town after business hours, the Los Angeles County Sheriff's Department said in a news release.
Authorities arrested 109 people for allegedly participating at the illegal speed event, often referred to as a "sideshow."
Seven drivers were booked at the Santa Clarita Valley Sheriff's Station and their vehicles were towed. Officials cited 102 others, including 17 minors, for spectating.
Officials said street racers flock to the industrial area to perform "burnouts, donuts and drifting."
"It isn't just the reckless driving or racing that is illegal, as the onlookers discovered," sheriff's officials said in the release. "A momentary loss of control, which can happen all too easily, can have devastating consequences for both the drivers and spectators."
The crackdown operation was a joint effort by the Los Angeles County Sheriff's Department, California Highway Patrol and the Los Angeles County District Attorney's Office.