This is an archived article and the information in the article may be outdated. Please look at the time stamp on the story to see when it was last updated.
A 73-year-old man is in custody after allegedly fatally stabbing his 11-year-old stepdaughter and injuring his wife before turning the knife on himself at their Garden Grove home on Wednesday morning, police said.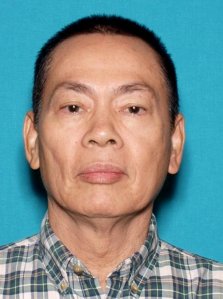 Officers responded to a domestic violence call in the 8900 block of Blossom Avenue around 6:30 a.m., according to Garden Grove Police Department Lt. Carl Whitney.
When they arrived, officers were met outside the single-story duplex by a 36-year-old woman, who was suffering from stab wounds and had also been shot, Whitney said. She pointed officers toward her husband while they treated her at the scene, identifying him as the attacker.
Police went around to the back patio area where they found the man.
"He was armed with a knife at the time and was threatening to hurt himself," Whitney said. "He was also suffering from some self-inflicted stab wounds."
While negotiating for the man's surrender, officers learned there were children in the home. While one team remained outside with the man, another group of officers went inside.
It was during the search of the home that police encountered an 11-year-old girl who had been stabbed multiple times, Whitney said. She was rushed to a local hospital where she later died of her injuries. Authorities have not released her name yet.
Police were able to rescue two young boys, ages 3 and 6, who were found uninjured in the home.
The man, identified as Tanh Thien Tran, of Garden Grove, was taken into custody after officers deployed less-than-lethal force – a bean bag round – on him, the lieutenant said.
"Detectives believe the motive for this crime is domestic violence related," a police news release stated.
He was initially identified as the girl's father before police later clarified that he is her stepfather.
Tran was taken to a hospital for superficial knife wounds. His wife was taken to a different hospital and was treated for multiple stab wounds and a gunshot wound, police said.
Many neighbors said they didn't hear any scuffle before police showed up.
And several said the violence was highly unusual for the neighborhood.
"It's a shock to us all. It was to me," said neighbor Richard Cackowski. "When he told me there was a murder, I almost fell over backward. I said, 'You've got to be joking.'"
Crime scene investigators are expected to remain on scene into the afternoon, and no additional details were immediately provided.
Anyone with information is asked to call detectives at 714-741-5704.
GGPD Detectives currently working a homicide 9800 block of Blossom. Crime occ'rd 0630am. Victim is 11 yr old female. 36 yr old mother also shot and stabbed is stable. 2 yr old and 6 yr old boys unharmed. Father has self-inflicted stab wounds and is in custody. #GGPD32 #homicide pic.twitter.com/b48AWWGP2f

— Garden Grove Police (@GardenGrovePD) August 29, 2018
KTLA's Cindy Von Quednow contributed to this story.