This is an archived article and the information in the article may be outdated. Please look at the time stamp on the story to see when it was last updated.
A search was underway in North Hills on Wednesday for a 12-year-old girl with a mental health condition who went missing when she went barefoot to take out the trash the previous night, according to her mother and police.
Donyetta "D.D." Butts was last seen at the Hometown Inn, at 9401 Sepulveda Blvd., around 9:30 p.m. Tuesday, a news release from the Los Angeles Police Department stated.
The girl's mother, Michelle Mosby, told KTLA that Donyetta had gone outside to throw out a diaper. When she had not returned to their unit 10 to 15 minutes later, Mosby became concerned and went to check on her daughter but could not find her. Mosby called police.
She said it would be out of character for her daughter to just walk out. Through tears, she delivered a message for her daughter.
"My message is just … come back, call me, and I love you. I just want you to be safe," Mosby said Wednesday morning.
Officers responded to the scene and performed a "grid search, a systematic search of the area utilizing additional units, air units," LAPD Sgt. Bennie Boatwright said.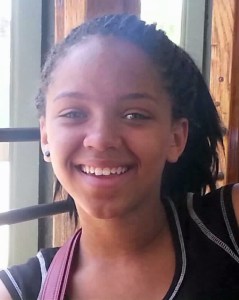 Mosby said her daughter had recently been befriended by a 28-year-old man in a nearby park. The family had no evidence Donyetta was with the man, but said they hoped police would investigate him.
Family friend Robin Key said the man's efforts to get to know Donyetta had raised suspicion.
"It's just not normal for a 28-year-old male to take that much time with a 12-year-old," Key said. "I've just had this feeling that ever since I saw him lurking around that that should be … stopped."
Mosby said police have been to the 28-year-old's home and searched but still did not have any leads in the case.
"They've had the two rescue crews out here. There's just no leads right now," she said. "They have scoured the neighborhood, and they've gone to two different parks. They've been up and down Sepulveda."
Officers could be seen searching the area with bloodhounds on Wednesday afternoon, checking all the rooms at the hotel.
The mother and daughter moved to California from Indiana about a year ago, and lived together at the Hometown Inn. The motel offers extended stay accommodations, according to its website.
Mosby described her daughter as vibrant, outgoing and talkative with strangers.
Police said Donyetta is 5 feet 5 inches tall with long, black braided hair with maroon tips. She was last seen wearing a pink-and-white spandex top with black leggings and no shoes.
Her mother said she has the word "love" carved into one of her arms.
The young girl has post-traumatic stress disorder with a mood disorder, and has struggled with suicidal thoughts, Mosby said. Police said she was on medication, and Mosby said she was in need of the medicine.
"She could be very easily agitated. And she could see and hear things that's not there," Mosby said.
Anyone with information about the missing girl is asked to contact Detective L. Saiza of the LAPD's Missing Persons Unit at 213-996-1800.
During nonbusiness hours or on weekends, callers should dial 877-527-3247. Those wishing to remain anonymous should call Crime Stoppers at 800-222-8477.
KTLA's Alberto Mendez contributed to this story.
Correction: An earlier version of this story incorrectly stated that the missing girl's mother said police had talked to an older man her daughter had met. In fact, the mother said police had searched his home. The post has been updated.
More video: