This is an archived article and the information in the article may be outdated. Please look at the time stamp on the story to see when it was last updated.
A student was taken into custody after allegedly stabbing a classmate at a school in Stevenson Ranch Friday morning, according to the Los Angeles County Sheriff's Department.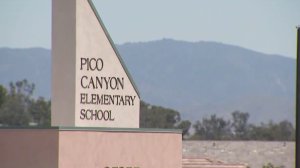 The call about the incident at Pico Canyon Elementary School, located at 25255 Pico Canyon Road, came in shortly after 8 a.m., Santa Clarita Sheriff's Station Lt. Ignacio Somoano told KTLA.
The suspect and victim, described by officials as 12-year-old boys in the sixth grade, were involved in a fight, officials said. At some point, one of the boys pulled out a knife and stabbed the other before school staff and other students jumped in to help stop the attack, according to authorities.
Sheriff's personnel arrived and took the suspect into custody.
The victim suffered multiple puncture wounds, officials stated. He received medical treatment at the scene and was taken to a local hospital with injuries that were described as not life-threatening, Somoano said.
Parents said they received a message from the principal alerting them to the situation.
"I think there are things going on socially with the kids that maybe we are just not aware of," parent Mary Tremble told KTLA. "I mean, obviously this kid must have been really angry and really upset, and I wonder why."
"It's very violent, and I don't know why someone would do it," student Logan Tremble said.
Authorities did not identify the suspect or the victim.
It was unclear how the student got the knife on campus and why he had it. The incident remained under investigation.
The Newhall School District released a statement from Superintendent Paul Cordeiro, which read in part:
"Our immediate goal is to support our students and their families. We have counselors and psychologists on site. Further, we are in direct communication with parents to assure them that we are following up in every possible way.  As always, our top priority is the safety of all students and adults on campus."
KTLA's Jennifer Thang contributed to this report.