This is an archived article and the information in the article may be outdated. Please look at the time stamp on the story to see when it was last updated.
Detectives found more than 1,200 firearms inside a Pacific Palisades home after responding to a report of a dead body inside a vehicle parked outside the house, LAPD announced Monday.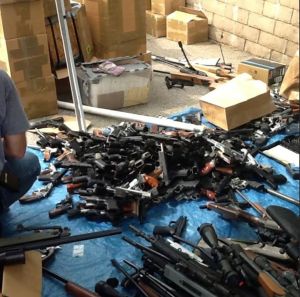 Police were first called to the home in the 1700 block of Palisades Drive at 5 p.m. July 17, when they found an adult man dead inside a parked vehicle.
They were able to identify the man, who lived on the street, according to a news release about the case sent out by the Los Angeles Police Department on Monday.
A county coroner's official said the man had not been identified as of early Monday evening.
The elite Robbery-Homicide Division took over the case, getting a search warrant for the victim's home.
Inside, they found more than 1,200 firearms — including handguns, rifles and shotguns — as well as more than 2 tons of ammunition. An LAPD bomb squad was sent to the home to determine that the search was safe to proceed.
Evacuation for surrounding homes were ordered for nearly 12 hours Saturday, when the search was conducted.
Neighbors in the Palisades Highlands condominium development said a male and female couple lived in the home.
"The fact that they were so secretive naturally aroused the interests and suspicions of those of use who observed what was going on," said neighbor Ed Grastorf. "They really hid quite effectively the fact that they had armaments in the house."
Defense attorney Harland Braun — known in part for his celebrity clients and for successfully defending the LAPD officers from criminal charges in the 1991 Rodney King beating — confirmed he was representing a woman who lived at the home. He said he had no comment on the situation.
Investigators were being assisted by the LAPD Detective Bureau's gun detail to determine the origin and legality of the firearms.
Anyone with information was asked to call Robbery-Homicide Division at 213-486-6890. Anonymous tipsters may call Crime Stoppers at 800-222-8477.