This is an archived article and the information in the article may be outdated. Please look at the time stamp on the story to see when it was last updated.
Thirteen people were being taken to area hospitals after 40 people were evaluated by paramedics following the collision of two buses on the side of the 10 Freeway in Boyle Heights on a rainy Thursday.
The collision was reported to Los Angeles firefighters just before 11 a.m. on the eastbound Express Lanes of the freeway at Soto Street, shortly after another vehicle hit a tree that was down in lanes.
A Greyhound bus struck a Foothill charter bus in the eastbound Express Lanes, prompting a SigAlert, according to the California Highway Patrol's traffic log. Aerial video from Sky5 showed the right front corner of a Greyhound bus had collided with the back left end of the Foothill Transit bus.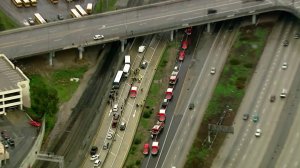 No one was left with life-threatening injuries but 40 people were evaluated and 13 transported to hospitals, the Los Angeles Fire Department's Brian Humphrey said.
Dozens of people were left on the side of the road in the the rain, Sky5 video showed.
Passengers aboard a bus that was several car lengths behind the collision were "getting restless" and "arguing" with the bus driver, CHP reported shortly after noon.
Express Lanes were shut down in both directions. Foothill Transit said its Silver Streak buses were taking detours around the scene.
Rain was expected to continue through the day.
KTLA's Meghan McMonigle contributed to this article.