This is an archived article and the information in the article may be outdated. Please look at the time stamp on the story to see when it was last updated.
Thirteen people linked to the Sinaloa Cartel have been arrested and nearly $11 million worth of heroin, cocaine, methamphetamine and fentanyl were seized during a year-long investigation in the San Fernando Valley and Ventura County, officials announced Tuesday.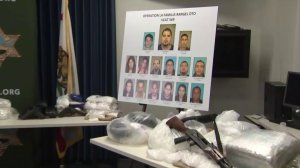 The suspects were arrested on a variety of drug sales and weapons charges, Ventura County Sheriff's Office officials said during a news conference in Thousand Oaks.
The investigation began last September, when members of a task force began looking into a Los Angeles County resident who was suspected of dealing bulk amount of drugs to people in Ventura County. Omar Rangel, 29, was eventually identified as the leader of an L.A.-based drug trafficking organization suspected of moving "substantial quantities of narcotics" for the Sinaloa cartel and distributing it in the two counties.
Rangel owned a business in the Valley, before moving to Palmdale, apparently after feeling "heat" from law enforcement, Ventura County Undersheriff Gary Pentis said. He faces 16 years in prison if convicted.
Detectives ended up seizing 161 pounds of methamphetamine, 121 pounds of cocaine, 13 pounds of heroin, nearly 7 pounds of fentanyl, 600 fentanyl pills, 12 firearms and more than $353,000 in drug sales proceeds, officials said. The combined street value of the drugs totaled more than $10,800,000.
Pentis said this is a "huge" case for Ventura County because fentanyl is often mixed with heroin and is contributing to overdose deaths in his area. He noted that those deaths between 2016 and 2017 have increased by 42 percent in Ventura County, and 22 of the 32 fatal overdoses this year involved fentanyl.
During the news conference, Pentis called the suspects "idiots."
"The problem we're centering on is deaths and destruction caused by fentanyl," Pentis said.
Along with Rangel, those arrested were identified as:
• Bryan Vega, 20, of Reseda
• Nancy Romero, 33, of Canoga Park
• Cesar Alvarez Serrano, 30, of Winnetka
• Alma Ceja, 47, of Downey
• Richard Kevin Riley, 48, of Hollywood
• Rhonda Harvey, 47, of Van Nuys
• William Kragthorpe, 54, of Sherman Oaks
• Xavier Lozano, 27, of Imperial Beach
• Jose Florentino Soto, 40, of Los Angeles
• Joseph Rigoberto Soto, 21, of Los Angeles
• Jorge Antonio Jimenez, 43, of Sylmar
• Alondra Banuelos, 23, of Sylmar
• Melissa Arnold, 45, of Oxnard
• Joshua Grimes, 34, of Simi Valley
The undersheriff said more arrests in this case are likely, as three defendants involved in the case remain at large.
"If anyone from the Sinaloa Cartel is working in our area or the Valley, come to Ventura County, we're going to arrest you," the undersheriff said.
He added that the task force hit the cartel where it hurts, by putting a huge dent in their wallet, and officials hope the arrests will cause a huge disruption in their organization.
"Life has very little meaning when you're just worshipping a dollar and the threat to make more dollars," Pentis said.