This is an archived article and the information in the article may be outdated. Please look at the time stamp on the story to see when it was last updated.
Authorities in Orange County asked the public's help Wednesday in finding 13 alleged Los Angeles gang members who police say were part of a robbery at a 7-Eleven.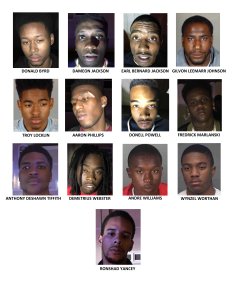 Police received a call shortly after 11 p.m. on Jan. 7 about a large group of people who went into a 7-Eleven in the 700 block of Pacific Coast Highway in Huntington Beach and reportedly stole items from the store and assaulted the clerk, according to the Huntington Beach Police Department.
The group then boarded a party bus and headed north, officials said.
Soon after getting the call, officers pulled over a party bus on Pacific Coast Highway near the 7-Eleven. Investigators questioned all 80 people aboard and found seven loaded handguns on the bus, authorities said.
Click here to read the full story on LATimes.com.