This is an archived article and the information in the article may be outdated. Please look at the time stamp on the story to see when it was last updated.
A 13-year-old boy was expected to recover after a shark attacked him while he dived for lobsters in Encinitas, hospital officials said Monday.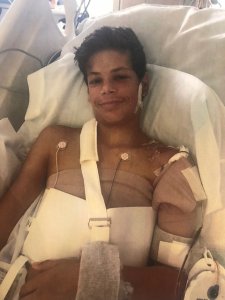 Keane Hayes was in serious condition a day after he was bitten off the coast of Encinitas, a city north of San Diego, Rady Children's Hospital-San Diego said in a statement. He had been listed in critical but stable condition following surgery Saturday.
Although the teen sustained a large soft tissue injury on his torso, as well as on his face, the medical center's Tim Fairbanks said at a news conference on Monday that he's going home "intact."
Approximately 4 miles (6.5 kilometers) of beach will stay closed until at least 7 a.m. Monday, officials said. There have been no reports of additional shark activity since the attack, Encinitas lifeguard Capt. Larry Giles told reporters Sunday.
The teen was conscious and talking while being brought to shore by fellow divers, Giles said a day earlier at Beacon's Beach in Encinitas, about 27 miles (43 kilometers) north of downtown San Diego.
"We really do believe they saved his life," the boy's mother, Ellie Hayes, said at Monday's news conference.
The attack occurred early Saturday during the opening hour of California's popular spiny lobster season.
The boy was diving in about 9 feet (2.7 meters) of water approximately 150 yards (137 meters) offshore when he was attacked. Witnesses estimated the shark was about 11 feet (3 meters) long, but the type was not known, Giles said.
Keane's mother said despite the incident, her son is determined to go back into the water.
"He said, 'Mom, the chances are so much more slim of a second bite,'" Hayes said.
"He had said, 'Mom, I'm going to make you a lobster dinner tonight, so he owes me one,'" she said.
A GoFundMe account has been established to help the family pay for medical expenses.
The most recent fatal shark attack in the area was in 2008 when a swimmer was killed at Solana Beach. A more recent attack along the Camp Pendleton coast of north San Diego County was not fatal.
Earlier this month, a man died after being bitten by a shark off Cape Cod, Massachusetts.