This is an archived article and the information in the article may be outdated. Please look at the time stamp on the story to see when it was last updated.
The Orange County Coroner Division identified a 13-year-old girl who was fatally struck while riding her bicycle near a Santa Ana school on Monday.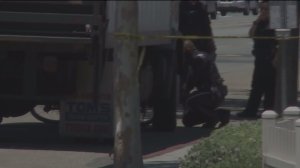 Priscilla Vallejo was riding her bike on Center Street through the Edinger Avenue intersection — right in front of Diamond Elementary School– at approximately 7:30 a.m. when she was by hit by a box truck in the area, according to Jeffrey Smith, a watch commander with the Santa Ana Police Department.
The intersection is also across the street from another campus, Gerald P. Carr Intermediate School.
Priscilla was pronounced dead at 7:42 a.m., according to the Coroner Department's website. She died just four days short of her 14th birthday, the record showed.
Video from the scene showed a bicycle lodged beneath the unmarked box truck, which was next to a sidewalk directly in front of the elementary school.
Multiple Santa Ana police units remained there hours after the collision as investigators tried to determine its cause.
The unidentified driver was an employee of the Santa Ana Unified School District. He remained at the scene and was cooperating with police, according to Smith, who added the man was distraught over the collision.
On Monday afternoon, Santa Ana Unified School District Deputy Superintendent Dr. Stefanie Phillips released a statement in connection the crash, saying the safety of students is the district's "top priority," and also calling it "deeply troubling."
"Our crisis team of trained responders has been dispatched to Carr Intermediate and Diamond Elementary Schools, and counseling services are being provided to students," Phillips wrote.
The statement continued: "Santa Ana Police Department is investigating the accident. We continue to cooperate fully with the Santa Ana Police Department."
An investigation into the crash was ongoing.
KTLA's Matt Phillips contributed to this story.