This is an archived article and the information in the article may be outdated. Please look at the time stamp on the story to see when it was last updated.
An unmanned military drone with a 130-foot wingspan crashed in the Sierra Nevada near Lone Pine, causing a small forest fire this week and prompting a warning to stay away from the wreckage.
The Air Force drone crashed in a remote mountain area about 1:45 p.m. Wednesday, according to a news release from Edwards Air Force Base.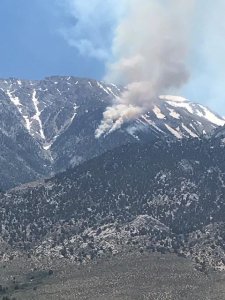 Multiple witnesses reported seeing the aircraft go down as well as large flames and black smoke, according to the California Highway Patrol's log. One retired deputy was on a bike ride in the nearby Alabama Hills when a stuttering engine was heard and then debris was flying through the sky, the log states.
The crash apparently started the Diaz Fire, which was reported by the Inyo National Forest to be 9 acres as of Friday. The blaze was burning at 9,000 feet between two wet drainages. Crews were working to begin containment Friday on the fire's eastern edge, close to residential communities west of Lone Pine.
Nearly 140 people were responding to the fire.
The Edwards statement indicated the remotely piloted aircraft that crashed was an RQ-4 Global Hawk.
The aircraft was assigned to the 9th Reconnaissance Wing at Beale Air Force Base about 40 miles north of Sacramento, and it was returning from Edwards to Beale when it crashed.
The aircraft has a 130-foot wingspan, making it the size of a small airliner, the Associated Press reported. Built by Northrop Grumman, the RQ-4 Global Hawk is a high-altitude surveillance aircraft that the Air Force has used since 2001.
The aircraft are slowly being phased out, AP reported.
The crash is under investigation, and the Air Force Base warned people to avoid the debris.