This is an archived article and the information in the article may be outdated. Please look at the time stamp on the story to see when it was last updated.
Dozens of people were rescued from vehicles and evacuated from homes Thursday morning after heavy rain prompted flooding and a massive mudflow in Riverside County, officials said. No injuries were reported.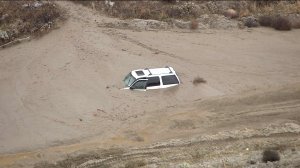 Firefighters from Cal Fire and the Riverside County Fire Department responded about 1:31 a.m. to a report of an occupied vehicle stranded near the intersection of Sublette and Gilman Springs roads (map), in Gilman Springs, according to an incident report. Two people were rescued from the vehicle and were unharmed, the report said.
Emergency personnel, including a swift-water rescue team, conducted a further search and later saved about 38 more people who were in other vehicles in the area, as well as in San Jacinto and Hemet, officials said.
Two ambulance units transported the rescued individuals in Gilman Springs to safe ground. Aerial video showed several abandoned cars and SUVs submerged in mud in the unincorporated community.
Meanwhile, seven people were evacuated from eight homes that were flooded with water and mud in the 20500 block of Gilman Springs Road (map), said Riverside County fire Capt. Lucas Spellman.
Several streets remained closed Thursday night, including Gilman Springs Road, which was shut down between Sanderson and State Street.
That section of road was not expected to reopen until sometime this weekend.