This is an archived article and the information in the article may be outdated. Please look at the time stamp on the story to see when it was last updated.
Fourteen people were hospitalized after being wounded in a drive-by shooting outside a house party in South Bakersfield early Saturday, the Kern County Sheriff's Office said.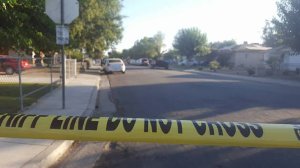 "Numerous" partygoers were on the street in front of a residence in the 600 block of Stephens Drive shortly before 1 a.m. when a vehicle drove past and one or more occupants began firing into the crowd, according to a sheriff's news release.
"You didn't know if your friends was OK or not," said witness La'Keijuh Cartwright. "Everybody was just everywhere trying to be safe for their self."
Fourteen people were hit by the gunfire; their injuries included gunshot wounds to the chest, arm and legs, the release stated.
All 14 victims were transported to area hospitals for treatment, according to the release. Two people were critically injured in the shooting but are expected to survive.
The conditions of the rest of the patients was not provided.
"I didn't expect it to go down like that," said another witness, Kelvinay Kelley. "I was scared because it could've been me."
About 150 people showed up to the party according to the release.
Many of those in attendance were between the ages of 15 and 18, and not all of them were invited guests, the Sheriff's Office told Bakersfield station KERO-TV.
The shots were fired when the party began dispersing after some type of disagreement, according to the television station, citing the Sheriff's Office. Authorities believe three people, possibly between the ages of 17 and 19, are responsible for the shooting.
"We think that there's somebody that was there at that party that knows who these three people — or at least one of these suspects is," sheriff's Lt. Ray Priutt said.
At least two different guns were used by the shooters, and people from the crowd returned fire, the Sheriff's Office told KERO.
Authorities did not immediately have a detailed description of the vehicle, or of the shooters.
No additional information was released about the incident, which remains under investigation.
KTLA's John A. Moreno contributed to this report.