This is an archived article and the information in the article may be outdated. Please look at the time stamp on the story to see when it was last updated.
A 14-year-old boy has been arrested in connection with the fatal shooting of a 19-year-old college student outside a Halloween party in Wilmington, officials announced Tuesday.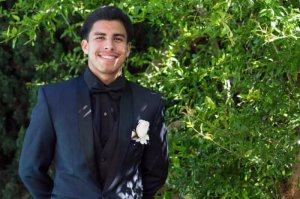 The shooting occurred about 1:45 a.m. Oct. 28, when Alex Giovani Zepeda stepped outside a party in the 1100 block of West Cruces Street.
Zepeda, who was a sophomore at Cal State Fullerton, died at the scene, according to the Los Angeles Police Department.
Officials said the party was not a "gang party" but that members from rival gangs, Eastside and Westside Wilmas, were there, and that Zepeda was targeted.
"The shooting stems from decades of rivalry between these two gangs and the boundaries which divide them," LAPD officials said in a news release.
Detective David Cortez said during a news conference Tuesday that Zepeda was confronted by the suspect, was shot multiple times and died in a friend's arms.
The suspect was arrested on Nov. 2 in Wilmington as he was driving with family members. He has been charged with murder and is being held in a juvenile detention facility in Downey. He has not been identified because of his age.
Zepeda was a criminal justice major and had a minor in political science, according to the Daily Breeze. He interned for Los Angeles City Councilman Joe Buscaino in 2014. He was a star soccer player in high school and a police cadet.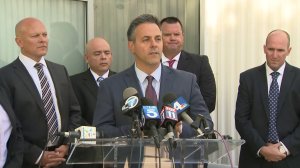 During the news conference, Buscaino said Zepeda did "everything right."
"I'll never forget his amazing smile," Buscaino said, adding that Zepeda was "enthused about trying to do right in this community."
"It was disgusting to know that a teenager killed another teen," the councilman said about the suspect. "I am saddened and deeply angered by the fact that our teens are killing each other over which side of the streets they live on."
Cortez said that he talked to the families of both the suspect and victim and "it's sad to see how they are affected."
He said that even though an arrest has been made, the case, and motive, remain under investigation.