This is an archived article and the information in the article may be outdated. Please look at the time stamp on the story to see when it was last updated.
A 14-year-old boy was found dead in the street early Friday morning after being struck by two hit-and-run drivers in Ventura, police said.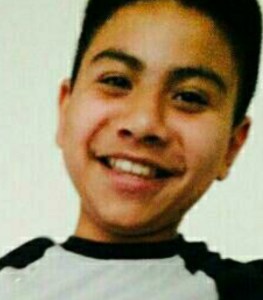 Jonathan Hernandez was riding his bike just after midnight near the intersection of Telegraph Road and Saticoy Avenue when he was struck by a white tow truck, according to the Ventura Police Department.
A short time later, a second vehicle described as a silver or light-colored compact SUV ran over the teenager as he was lying in the road, police said.
Neither driver stopped.
"The family is suffering greatly, especially with this hanging over their head now that nobody stopped for this 14-year-old boy," Pastor Samuel Howard, of Life Tabernacle of Ventura, said in an interview on Friday night.
Howard, who has known the Hernandez family for years, said Jonathan's death is the third tragedy they have experienced in the last five months.
Two months ago, one of the family members unexpectedly lost an infant. And last October, Jonathan's older sister Meriah died following a battle with a Leukemia.
Thursday would have been her 18th birthday. The family had gathered in Ventura to celebrate her life and release balloons in her honor.
Howard said the day was a difficult for one for the teen.
"He left the house to clear his mind, just to get away over what happened and only made it – not even three minutes from the house," said Howard.
Jonathan attended Buena High School, where he played football and had a lot of friends, according to a GoFundMe page set up to pay for his funeral expenses. He was described as a good kid.
Investigators were looking at surveillance video from the area in an effort to identify the vehicles, both of which should have significant front end damage, according to police.
"If you know the person or are you are the person who did this, you need to turn yourself in," said a tearful 15-year-old Bree Cruz, the victim's girlfriend.
Anyone with information was asked to call the Ventura Police Department Traffic Unit at 805-339-4323.