This is an archived article and the information in the article may be outdated. Please look at the time stamp on the story to see when it was last updated.
A canvassing of San Bernardino National Forest turned up 15 bald eagles there, officials said Saturday, and bird lovers can watch their movements via webcam.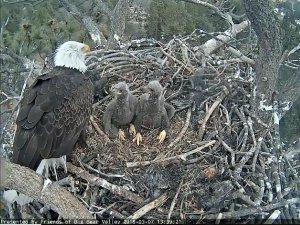 Among the birds are 10 adults, three juveniles and the two chicks who hatched near Big Bear Lake last month, San Bernardino National Forest officials said. More than 150 people turned out to count local specimens of America's national bird, despite Saturday's rain and fog.
The bald eagle chicks hatched live on a webcam last month and will be four weeks old on Sunday and Monday, officials said.
Eagle chicks grow rapidly and are usually one-foot tall at a month old, officials said.  They are expected to be fully grown by nine weeks, when first flights are possible.
The area surrounding the nest near Big Bear Lake is closed to the public, in an effort to protect the eagles from disturbance, officials said.
But the chicks and their parents can be seen on a webcam provided by the nonprofit Friends of the Big Bear Valley.
A viewing station at Dana Point Park in Fawnskin, on the north shore of Big Bear Lake, will be staffed on Sundays between 10 a.m. and 2 p.m. Officials recommend that visitors call  the Big Bear Discovery Center before heading out at 909-382-2790.