This is an archived article and the information in the article may be outdated. Please look at the time stamp on the story to see when it was last updated.
A driver was hospitalized after crashed a car into a building in the Mid-Wilshire area early Sunday, officials said.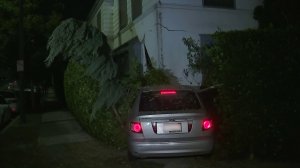 The incident was reported about 3:35 a.m. near the intersection of San Vicente Boulevard and Ogden Drive, according to the Los Angeles Fire Department.
The driver suffered minor injuries, LAPD officials said.
Ricardo Parral, co-owner of the bungalow-style 4-plex said he thought there was an earthquake when the car slammed into the building. He didn't realize it was a crash until a neighbor told him what happened and he saw the damage himself.
Parral told KTLA that he saw the driver unconscious at the wheel and that two passengers got out of the car and ran away.
No arrests were made and the crash remains under investigation.
Building and safety officials were notified of the crash, and the Red Cross also responded to assist possibly displaced residents. The fire department initially reported that up to 15 people were temporarily displaced after the crash.
The car was towed just after 6 a.m. Sunday and had major front-end damage.
Correction: A previous version of this story indicated the wrong neighborhood where the crash occurred.