This is an archived article and the information in the article may be outdated. Please look at the time stamp on the story to see when it was last updated.
Surfers and swimmers were advised to steer clear of various Southern California beaches Wednesday after numerous sharks were spotted in coastal waters from Long Beach to northern San Diego County.
Video footage captured by Orange County sheriff's officials Wednesday afternoon shows about 15 sharks swimming in shallow waters not far off the shore of San Onofre State Beach. Deputies said warnings were issued to surfers and swimmers along the coastline from Capistrano Beach in Orange County to San Onofre.
The warning would stand for two days after one of the sharks displayed aggressive behavior at the surfing site known as Church, according to the Marine Corps Community Services at Camp Pendleton.
The activity was reported by a surfer who had a "very close encounter with a shark," a Camp Pendleton spokeswoman told the San Diego Union-Tribune.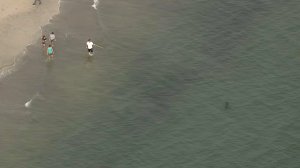 The San Diego newspaper said people were not barred from the beach, though the sign posted by Camp Pendleton officials warned to "keep out." No injuries had been reported.
A shark advisory was also activated in Long Beach on Wednesday for at least 24 hours.
Officials had previously reported approximately 10 to 20 juvenile sharks were swimming daily in the waters off Peninsula Beach, and a rescue boat confirmed four were in the area on Thursday, according to Capt. Cameron Abel with the Long Beach Marine Safety Division.
An advisory is issued when there is a confirmed sighting of at least one non-aggressive shark and beachgoers may enter the ocean at their own risk.
Shark experts believe the warmer than usual ocean waters are bringing the sharks in, along with ideal nursery conditions. Those who want to swim will have the best chances of avoiding sharks at busy beaches, according to Chris Lowe, a researcher at CSU Long Beach's Shark Lab.
"If you look along the coastline at where (shark) incidents occur, they usually occur at more remote sites, places that are away from the masses," he told KTLA. "You are safer going to a really crowded beach because we rarely see shark bite incidents on people at those places."
On April 29, a mother of three was severely injured when a shark attacked her while she was swimming off the coast at San Onofre. As of May 5, the woman, Leeanne Ericson, was still at Scripps Memorial Hospital in La Jolla facing a lengthy recovery, according to her trauma surgeon.
A woman in Pacific Palisades also said she was bitten by a shark last week.