This is an archived article and the information in the article may be outdated. Please look at the time stamp on the story to see when it was last updated.
Police investigated two school campuses in Pomona after a student was threatened with a gun via social media, officials said Wednesday.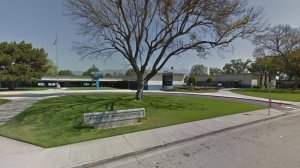 One 15-year-old Pomona High School student at has been arrested in connection with the incident, the Pomona Police Department said in a news release.
A 14-year-old student at Emerson Middle School reported the video to authorities just before 11 a.m. Tuesday. Sent via social network, the clip allegedly showed someone police described as another student holding a handgun and making threats.
The male students are friends and are believed to have some kind of feud, according to Sgt. Brian Hagerty.
Officers responded to both Emerson Middle School on Lincoln Avenue and Pomona High School on Bangor Street.
Investigators received information that led them to the 15-year-old suspect's residence, where they found a semi-automatic handgun, officers said.
The suspect was then taken into custody on suspicion of making criminal threats.
The threats made did not involve the campuses at large, and detectives do not believe he ever brought the firearm to school.
Neither student is being identified by law enforcement because they are both juveniles.