This is an archived article and the information in the article may be outdated. Please look at the time stamp on the story to see when it was last updated.
A 15-year-old YouTube skateboarding star promised to introduce a 12-year-old girl to celebrities in exchange for sex acts with him, his manager and another professional skater, leading to the arrest of all three males and a search for possible additional young victims, Los Angeles police said Thursday.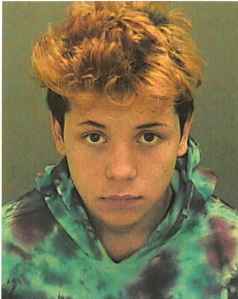 Steven Fernandez, 15, of Compton, was the "prime mover" in a scheme to lure the young girl off city streets with his own fame, a promise of meeting A-list celebrities and an appearance in the teen's "nonexistent MTV special," according to a Los Angeles Police Department news release.
Fernandez, who has dozens of videos on YouTube and more than a million followers on Instagram, tweeted "I feel like I'm letting so many down" and "Please don't ever give up on me" Wednesday.
His nickname is "Baby Scumbag."
Fernandez's attorney, Ryan D'Ambrosio, contacted KTLA to say that his client had been "victimized" by the two adults.
"We feel personally that he is just as much of a victim as the other minor in the case … and that his celebrity status was preyed on by the adults who were arrested in the matter," D'Ambrosio said.
The teen's name was released by police despite his age because he allegedly sexually targeted another minor.
The investigation began Nov. 13, when the 12-year-old victim spoke to police.
The girl said Fernandez had called her over to a car on Ventura Boulevard, making promises to her and telling her to get in. The car was driven by Fernandez's manager, Jose Barajas, police said.
The teen asked the girl to engage in sex acts with himself, Barajas, and 27-year-old fellow professional skater Keelan Lamar Dadd, according to LAPD.
"Fernandez and his buddies used his fame and brand to sexually exploit the very girls who made the men rich and famous," Ninette Toosbuy of the West Valley Detective Division said in LAPD's news release. "We're taking exceptional measures to find additional victims because the fate of some young lives may be at stake."
Fernandez and 23-year-old Barajas were arrested Nov. 17 after detectives sent a text pretending to be the victim and seeking to meet at an abandoned home for sex. Dadd turned himself in on Dec. 3, police said.
The trio were booked on suspicion of lewd and lascivious acts with a child under 14. The adults were charged in a 15-count amended criminal complaint filed in Van Nuys court Thursday.
Barajas' bail was set at $475,000 and Dadd's at $200,000. Both men bailed out, while Fernandez was released to his mother and ordered to wear an ankle tracker.
County inmate records showed Dadd bailed out after 11 hours on Dec. 3, while Barajas bailed out Nov. 19. Police said Barajas was 22, but court and inmate records show he is 23.
On Dec. 10, Barajas pleaded not guilty, a spokeswoman for the Los Angeles County District Attorney's Office said. Dadd was due for arraignment in Van Nuys court on Dec. 23, she said.
The DA's office could not comment on Fernandez because of his age, the spokeswoman said. D'Ambrosio would not say whether his client had been charged, saying the investigation was "still pending."
Barajas was charged with 12 counts, while Dadd was charged with three.
For crimes allegedly committed Nov. 4, he was charged with: lewd act upon a child; oral copulation of a person under 16; sexual penetration by a foreign object; and lewd act upon a child. For alleged crimes on Nov. 13, Barajas was charged with unlawful sexual intercourse; oral copulation of a person under 14; oral copulation of a person under 16; two counts of sexual penetration by a foreign object; and lewd act upon a child. For alleged offenses on Nov. 14, he was charged with: attempted lewd act upon a child; and contact with minor for sexual offense.
Dadd was charged with lewd act upon a child, oral copulation of a person under 14, and oral copulation of a person under 16 for crimes that allegedly occurred Nov. 4.
All alleged felonies were committed upon a minor victim identified as "T.A." in the criminal complaint.
Police asked parents to look at the three males' pictures and names and ask their daughters if they have had contact with them. The LAPD release was headlined "Detectives Seeking Victims in Sexual Exploitation of Tweens."
"The suspects tended to cruise the West San Fernando Valley, Hollywood, and Compton, looking for young girls to solicit," Toosbuy said.
Fernandez, whose YouTube channel has more than 703,000 subscribers, in March posted a video titled "Steven Fernandez Picking Up Girls." It shows him catcalling and approaching women from a car, much as described by police.
Anyone with information was asked to call Toosbuy at 818-374-7718. Anonymous tips may be made at 800-222-8477, or by texting 274637 and beginning the message with "LAPD." Online tips can be made at LAPDOnline.org.