This is an archived article and the information in the article may be outdated. Please look at the time stamp on the story to see when it was last updated.
The names were released Friday of all three suspects arrested and booked on suspicion of murder in the death of a Downey police officer who was gunned down earlier this week during a botched robbery attempt.
The youngest, a 16-year-old boy, has been charged as an adult with one count of murder in connection with the shooting, authorities announced Friday.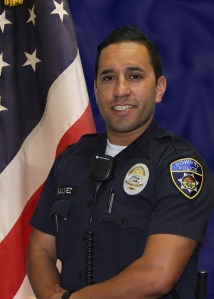 Abel Diaz, of Bellflower, was initially expected to be arraigned Friday afternoon in Los Angeles Superior Court, according to a news release from the Los Angeles County district attorney's office. The arraignment was  rescheduled to Monday, the office said on Twitter.
Prosecutors planned to ask that his bail be set at $1 million, the statement said. If convicted, he faces a maximum sentence of life in state prison.
The two other suspects were identified Friday night as brothers Steven Knott, 18, and Jeremy Anthony Alvarez, 21, according to a news release from the Los Angeles County Sheriff's Department.
Like Diaz, they were also expected to be charged with murder.
The brothers were being held without bail and were expected to appear in court on Monday, the release stated.
Officer Ricardo Galvez, 29, was wearing plainclothes and sitting in his personal vehicle in a public parking lot near the Downey Police Department about 11 p.m. Wednesday when he was approached by Diaz and the 18-year-old suspect, said Lt. John Corina of the Los Angeles County Sheriff's Department on Friday.
At a news conference the previous day, the lieutenant said: "It looks like these guys were out looking for somebody to rob."
Galvez had just returned from an off-site training shift when the shooting took place. The trio did not realize he was a police officer or that they were near the police station, Corina said.
The suspects fled the scene in a vehicle driven by the 21-year-old, according to the Sheriff's Department.
A fellow officer heard the gunfire and chased the suspects in a pursuit that ended in Montebello, Downey police said. Several men and women were detained near the intersection of Washington Boulevard and Carob Way.
The driver attempted to flee through residential backyards and was apprehended immediately. The other two suspects, who fled into a nearby home, were subsequently taken into custody.
A handgun, believed to have been used in the fatal shooting, was recovered, Corina said.
A special memorial fund has been set-up to assist the family of Officer Galvez. The fund was being coordinated through a partnership between the Downey Police Officers Association (DPOA) and the Downey Federal Credit Union.
Those interested may direct their donations to Downey Police Corporal Mike Pope at 562-904-2308 or by email at mpope@downeyca.org or can contact the Downey Federal Credit Union directly.
[protected-iframe id="4d01fe1bbeb557ea17649d48761aaca6-41641936-42155150″ info="https://w.graphiq.com/w/cJVkkWM7IRn" width="640″ height="513″ frameborder="0″ scrolling="no"]