This is an archived article and the information in the article may be outdated. Please look at the time stamp on the story to see when it was last updated.
A 16-year-old Torrance baseball player was killed after a game Tuesday night when the minivan his father was driving was struck by two other cars that were involved in a chase following an earlier collision.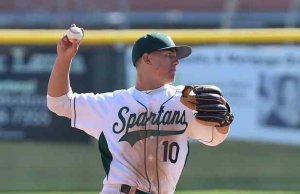 Jesse Esphorst Jr. was identified by his South High team as the victim in the crash. His 47-year-old father had serious injuries and was in the intensive care unit, the father's sister said on Facebook. By Wednesday night he had been moved out of the ICU and was recovering.
"Last night my brother and nephew were in a senseless car accident. I still can't believe it," Kathleen Esphorst wrote. "Hard to put into words the pain and loss we are all feeling right now.
An afternoon vigil was held at South High's baseball field. Flowers were left at Esphorst's shortstop position.
The Spartan Baseball family is holding a vigil at 3:00pm in honor of Jesse Esphorst Jr on the Spartan Baseball field

— South High Baseball (@SoHighBaseball) March 8, 2017
"Thoughts and prayers go out to the Esphorst family. We all lost an amazing young man (whose) life was cut short senselessly," the South High baseball team tweeted early Wednesday.
The teen shortstop, a sophomore, hoped to play baseball professionally and had hit a two-run home run just hours before his death, the Daily Breeze reported.
Grady Sain, the head baseball coach at South High School, told KTLA he will miss the teen dearly.
"Everything, everything. His smile and his handshake. Him as an amazing person," said Sain. "His goals were to play pro-ball and he was on his way to doing that."
In a personal statement for his profile on a recruiting website, Esphorst Jr. wrote he dreamed of playing college baseball.
"Not only am I a good athlete, but also a good person, teammate and student," the teen wrote. "I am focused and humble willing to do what it takes to make my team and teammates better! Not only do I work hard on the field but also off, I enjoy giving back to my community and making a difference, taking pride in everything I do."
He is survived by his parents, two sisters and his little brother, Cody, who is battling thyroid cancer.
The crash occurred at 10:09 p.m. at Crenshaw Boulevard and Crest Road, according to a Torrance police news release.
Esphorst's father's 2000 Toyota Sienna was turning left from southbound Crenshaw onto eastbound Crest when two northbound cars coming down the hill from Palos Verdes plowed through a red light and hit the minivan.
The two cars had earlier been involved in a minor collision, and one vehicle was chasing the other after that hit-and-run crash in Rancho Palos Verdes, police said.
A 2004 Audi A6 fled after the minor crash with a 2014 Mercedes-Benz GLK350. The driver of the Mercedes, a 21-year-old man from Rancho Palos Verdes, was following the Audi when the two cars struck the minivan, police said.
The Esphorsts were returning home from a post-game dinner at the teen's grandmother's house when the van was hit, the baseball team's coach told the Breeze.
"I thought it was a bad dream," said Jim Blume, the assistant baseball coach at South High School. "It was nightmare. I couldn't believe it, it was just devastating."
The 21-year-old Mercedes driver, identified by police as Tung Ming, stayed at the scene and was treated by responding Torrance Fire Department personnel. He was taken to a hospital and then arrested on suspicion of vehicular manslaughter.
Ming was released about 8 a.m. Wednesday on $50,000 bail, county jail records show. He is due in court in Torrance on Friday.
The Audi was found abandoned nearby; police are trying to identify and locate the driver, but no description of him or her is available.
Anyone with information is asked to call the Torrance Police Department Traffic Division at 310-618-5557.