This is an archived article and the information in the article may be outdated. Please look at the time stamp on the story to see when it was last updated.
A missing boat was towed to Cabrillo Marina on Monday morning after being found by a good Samaritan boater off the coast of Rancho Palos Verdes, officials said.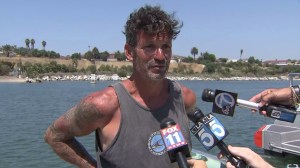 The 17-foot vessel's three occupants — a man and two women — were uninjured, according to Capt. Jennifer Williams of the U.S. Coast Guard.
The boat had departed Catalina Island's Avalon Harbor about 8 p.m. Sunday and was headed to Redondo Beach before it was last seen near Rancho Palos Verdes (map), the Coast Guard said.
The man on board called 911 at about 9:56 p.m., after the boat apparently lost power, Williams said. He was later identified as Jason Wischmann, 45, of Long Beach.
"The call lasted just a few minutes," Williams said. "I believe that he only had just 2 percent battery power, which didn't help our search at all."
Lifeguards from the Los Angeles County Fire Department's Baywatch Cabrillo, stationed at Los Angeles Harbor, initiated a search but were unable to locate the watercraft.
The Coast Guard joined the search effort about 10:30 p.m., deploying helicopters, small boats and a patrol boat, Williams said.
About 10 hours later, a good Samaritan on a yacht discovered the stricken vessel and the recovery operation got underway.
"We got out of [Avalon Harbor] a little bit late and it was rough, it was windy out, so we had to go real slow," Wischmann said, standing on a dock after he and his companions were rescued. "We ran into some trouble and that was it. We ran out of fuel."
No charges were immediately filed in the incident, but a coast guardsman told KTLA that Wischmann might be cited for possible safety infractions.
"I think, in this situation, if [Wischmann] had … popped off a flare during our search, we would have been able to find them immediately," Williams said. "I'm not sure if the mariner had the equipment on board, but if he did he didn't use it, which prolonged this case."