This is an archived article and the information in the article may be outdated. Please look at the time stamp on the story to see when it was last updated.
Police arrested a 17-year-old boy on homicide charges Saturday in connection to a crash in Woodland Hills that killed one person and injured three others,  including himself, the Los Angeles Police Department said. The teen is accused of driving recklessly and running a red light just before the deadly crash, which took place at around 10 p.m. Friday in the 20100 block of Ventura Boulevard, according to LAPD. Paramedics pronounced one man dead at the scene, according to the Los Angeles Fire Department. Authorities did not identify the victim, but said the person was driving a 2002 Toyota Tacoma pickup truck at the time of the collision. Coroner's officials described the victim as a man of approximately 50 years old. He was making a left turn from southbound Winnetka Avenue to eastbound Ventura Boulevard when a speeding 2019 Mercedes-Benz C300 that was heading west on Ventura Boulevard and blew through a red light, investigators said. "Witnesses claim the 17-year-old driver of the Mercedes was operating his vehicle recklessly for several blocks prior to the collision," police said in a written statement. "The totality of the circumstances indicate the driver of the Mercedes displayed willful disregard for human life. As a result, he was arrested for murder." The suspect's name was not released due to his age. Both the suspect and a passenger in his car were hospitalized for injuries suffered in the crash, officials said. An update on their conditions was not available. Following the initial impact between the Mercedes and the Tacoma, the Mercedes went into opposing traffic lanes and struck a Lexus SUV and a Ford SUV, police said. One person in one of those vehicles was treated for minor injuries, fire officials said.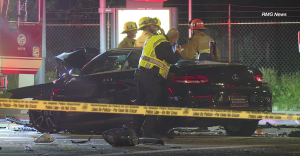 The man in the pickup truck appeared to have died instantly, witnesses told KTLA. "He was on the floor, unconscious," said Aileen Megallanes, an employee of a nearby business who rushed to the scene to help. "People were trying to lift his head up. He had no pulse." Magallanes added that the man was wearing some type of uniform and was surrounded by cleaning supplies. "He looked like he had just finished a job cleaning or something," he said. The incident is still under investigation. Authorities were looking into reports two racing vehicles triggered the crash. No further information was immediately available.