This is an archived article and the information in the article may be outdated. Please look at the time stamp on the story to see when it was last updated.
A 16-year-old girl was killed and four others injured when two cars collided Saturday morning in Wilmington, authorities said.
Police had initially said the deceased victim, identified as Valentina Dola-Sandro of Torrance, was 17-years-old.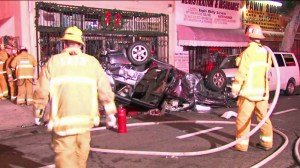 The incident occurred around 2:00 a.m. at the intersection of Anaheim Street and Avalon Boulevard, according to the Los Angeles Police Department.
There were four teenagers inside a 2005 Ford Mustang, and one person in a silver vehicle, which flipped over during the collision, witnesses said.
The Mustang was traveling at a high rate of speed and failed to stop at a red light, according to Sgt. Jeremy Duncan with the South Traffic Division of the LAPD.
The 16-year-old was a passenger in the rear of the Mustang, police said. She was ejected from the vehicle and died at the scene, police said.
Four other people were injured in the collision and taken to area hospitals, the LAPD said.
Their conditions were not known.