This is an archived article and the information in the article may be outdated. Please look at the time stamp on the story to see when it was last updated.
A 17-year-old was arrested Tuesday in connection to an apparent home-invasion robbery that resulted in the death of a man, according to the Downey Police Department.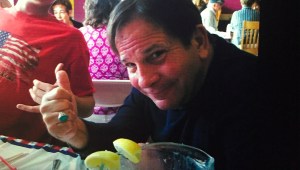 Police discovered the body of 59-year-old Jimmy Rudometkin, who was identified by a friend, after responding to reports of a possible home-invasion robbery in the 10300 block of Lesterford Avenue on Sunday.
Two men — Henry Willie Sao, a 28-year-old from Long Beach, and Paul Darvis Misikei, a 19-year-old from Anaheim — were arrested shortly after officers established a perimeter the day of the attack, police said.
The 17-year-old, who was also from Anaheim, was detained Tuesday. All three were were all arrested on suspicion of murder.
Rudometkin was a well-known real estate agent, and described as by one friend as a kind and loving man who was "willing to help anybody out, give them anything."
Police believe he was specifically targeted by the attackers, but have not released further details.
The victim's name has not been confirmed by police.
Anyone with information was asked to call the Downey Police Department at 562-904-2308 or Detective Paul Hernandez at 562-904-2368. Those who wish to remain anonymous can call Crime Stoppers at 800-222-TIPS.
Correction: An earlier version of this article gave the incorrect age for the victim. The story has been updated.