This is an archived article and the information in the article may be outdated. Please look at the time stamp on the story to see when it was last updated.
A Fontana mother is mourning her 18-month-old son who was fatally injured in an incident at his day care.
The incident happened Oct. 5, according to a GoFundMe page created by a friend of the family of toddler Deacon Ryan Morin.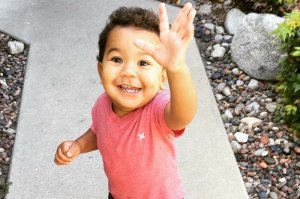 Police on Tuesday said officers were called to Marriott Family Child Care in the 6800 block of Royal Crest Place for a child reported not breathing. When medical personnel arrived, they took over CPR and the 18-month-old was taken to Kaiser hospital in Fontana, according to the Fontana Police Department news release.
"The child was placed on life support but ultimately passed away on October 10th," the release stated.
The cause of death will be determined by the San Bernardino County coroner's office, and Fontana police detectives are working on the case, according to the release.
On Tuesday, Deacon's mother, Danielle Morin, wrote on Facebook that the day care has said her son choked on his necklace. She disputed this and said her child was strangled, adding that she is disappointed that Fontana detectives have not contacted her.
"This is my baby why can't you understand my pain," Danielle Morin wrote.
Also Tuesday, the boy's grandmother told KTLA that Deacon remained on life support so that his organs can be donated. And an official from the coroner's office confirmed Tuesday afternoon that the child remained on life support.
"Our sweet baby Deacon peacefully went to be with the Lord today," the GoFundMe page said Monday. "Danielle has made the decision to donate his organs so another family's prayers can be answered. This is about a 24-48 hour process in finding a match recipient."
The boy's mother said in her Facebook post that Deacon was declared dead after failing numerous brain death tests. She did not have a choice about taking him off life support, she wrote.
She thanked the doctors and nurses at Kaiser hospital in Fontana.
"I do not know how they come to work everyday but without this team I do not know if I would have had the time with my baby that I did," she wrote. "They have jumped through hoops for me and my baby and I can not thank them enough."
As of midday Tuesday, the GoFundMe had raised more than $27,000.
Correction: An earlier version of this story made an incorrect statement about how the child was injured. The post has been updated with new information.