This is an archived article and the information in the article may be outdated. Please look at the time stamp on the story to see when it was last updated.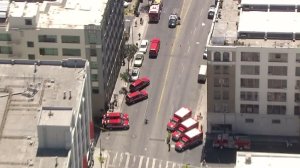 Eighteen people were treated for an identical, non-life threatening illness in the Skid Row area of downtown L.A. on Friday, according to the Los Angeles Fire Department.
The people, who are largely homeless, may have had contact with or shared an illicit substance but that substance has not been positively identified yet, the Fire Department stated in a media alert.
Firefighters were called to the incident at 263 E. Fifth St. at 12:51 p.m.
The 18 patients were taken to area hospitals.
Video from the scene showed more than a half-dozen ambulances responding, and people being placed on gurneys. Los Angeles police also responded.
KTLA's Melissa Pamer contributed to this article.