This is an archived article and the information in the article may be outdated. Please look at the time stamp on the story to see when it was last updated.
Two students at Dodson Middle School in Rancho Palos Verdes were hospitalized after firefighters were called to the campus for a report of an overdose Thursday morning, authorities said.
Paramedics were called to the school, at 28014 South Montereina Drive, just after 8:30 a.m. for a report of "ingestion," according to Los Angeles County Fire Department Inspector Joey Marron.
On scene, fire Battalion Chief John Mancha said firefighters were called in for a report of an overdose involving an unknown number of students.
Eighteen students were assessed, and two of those admitted to drinking alcohol, Mancha said. The school asked for the 18 children to be evaluated, Marron said.
One student at the school told KTLA he could tell his peers were acting strangely right before they became sick.
"I asked them 'what's wrong with you' because they were crying like emotionally, and they wouldn't answer," said the student. "I kind of smelled their breath and they smelled like alcohol."
The two students, both 12-year-old girls, were taken to a local hospital, he said. The other 16 students were evaluated on scene and released.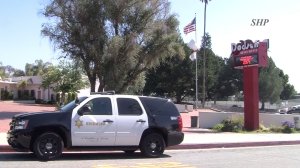 "There was an incident earlier this morning where there apparently was a bottle of alcohol that was shared among a group of students," Los Angeles Unified School District spokesman Daryl Strickland said at the school. "That led to the students needing, requiring examination."
The two students were hospitalized "out of an abundance of caution," he said.
An LAUSD board member who asked not to be named said the students had likely brought the alcohol to campus in a water bottle.
Parents have been notified, Strickland said.
Video from the scene showed a Sheriff's Department patrol vehicle was also at the campus. A call to the sheriff's Lomita Station, which patrols Rancho Palos Verdes, was referred back to LAUSD.