This is an archived article and the information in the article may be outdated. Please look at the time stamp on the story to see when it was last updated.
An 18-year-old high school student has been arrested in connection with a string of sexual batteries in the city of Irvine in recent months, the Irvine Police Department announced Wednesday.
The man accused of groping multiple women while riding past on a skateboard — even attacking and throwing a jogger to the ground in one instance — is Keenan Al-Sayed Ahmad, police said.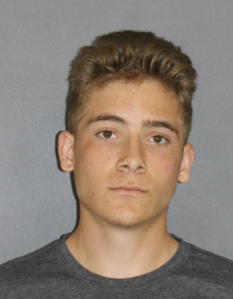 The police department said its investigation has linked Ahmad to the sexual battery cases and it is seeking criminal charges against him, including felony assault with intent to commit rape and sexual battery.
Ahmad, who is a student at Northwood High School, was arrested on Friday after police said he committed another sexual battery.
The Irvine Unified School District has released a statement saying it is cooperating with authorities as Ahmad is investigated and that police have said there's no indication students in the district have been harmed or injured in connection with the case.
Northwood High School will have counselors available to support students who may be affected, the district said.
Police said Ahmad saw a woman jogging along the Jeffrey Open Space Trail, a public park, and then approached her on Friday afternoon.
He was riding his skateboard at the time and came up to the woman and grabbed her buttocks, police allege.
After the woman called police, officers eventually found Ahmad based on a description provided by the woman. She later actually identified him as the person who groped her, police said.
Police have been searching for a man accused of groping woman while riding past on a skateboard, as they reached out for the public's help in identifying him back in December. During that month, he approached two different women in this manner, shoving one of them to the ground.
Once he threw the woman to the ground, police said, Ahmad allegedly covered her mouth to keep her from screaming for help.
Since he was "unable" to stop her screams, he got up and touched her in a "sexual manner" before fleeing the scene, police said in a news release.
The woman's husband spoke to KTLA after the incident, saying his wife had initially tried letting the man skateboard past her.
"She had moved off to the side to let him pass and she noticed there was no more sound," Corey, her husband, said. "So she turned and he was pretty much already on top of her and she just had time to respond as he tackled her."
"She was definitely very upset," he said of his wife following the attack.
While Ahmad was arrested on Friday, he was later released on bond.
An investigation into the alleged crimes is ongoing and anyone with information can contact Irvine Police Department Detective Keith Herter at 949-724-7183 or kherter@cityofirvine.org.