This is an archived article and the information in the article may be outdated. Please look at the time stamp on the story to see when it was last updated.
A San Diego teenager was killed in a car crash near Banning while traveling to the Coachella Valley Music and Arts Festival in Indio, while another teen passenger was left with life-threatening injuries, California Highway Patrol officials said Friday.
The 18-year-old woman killed was identified by the Riverside County Sheriff-Coroner as Ginevra Gallone-Latte. A Facebook page for the teen has been turned into a memorial page.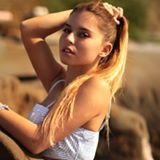 Meanwhile, CHP officials identified the 16-year-old girl left with serious, life-threatening injuries as Manuela Cerciellorahbari. The driver in the crash, a 21-year-old man named Cesar Hernandezozuna, was left with a laceration to his face, officials said.
At the time of the crash, about 4:15 a.m. on Thursday, he was driving at a high speed in a white 2009 BMW 328i, officials said. While traveling eastbound on the 10 Freeway, driving in the furthest right lane, the car drifted over the road edge and onto a dirt shoulder.
Although he tried steering the car back onto the freeway lanes, it lost control and went over the south embankment and slammed into two trees, CHP officials said. The car was split into two pieces and the 18-year-old was ejected from it, officials said.
She was pronounced dead at the scene, authorities said. Meanwhile, the other teen passenger, Cerciellorahbari, was taken to a nearby hospital after suffering life-threatening injuries.
While the BMW appeared packed with alcohol, food and camping gear, as the three were on their way to Coachella, CHP officials said alcohol and drugs have been ruled out as possible factors in the deadly crash.
CHP is continuing to investigate the crash and has not released further information about it.