This is an archived article and the information in the article may be outdated. Please look at the time stamp on the story to see when it was last updated.
A 19-year-old man was shot and killed while attending a party in Wilmington the weekend before Halloween, police said.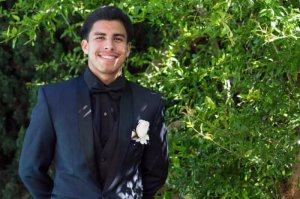 The teen had stepped outside the party to meet with friends when an unknown assailant or assailants walked up to him and opened fire in the 1100 block of West Cruces Street around 1:45 a.m. Saturday, according to a Los Angeles Police Department news release.
He was pronounced dead at the scene.
Authorities did not immediately release the name of the victim, but the Daily Breeze identified him as Alex Giovanni Zepeda, a sophomore at Cal State University Fullerton.
Zepeda was a 2016 graduate of Banning High School in Wilmington, where he was a star soccer player, the newspaper reported.
His former soccer coach, Frank Sandoval, described the teen's future as promising.
"His was the brightest because he was determined to finish college," Sandoval told the newspaper. " I told him, 'Education, you can't beat it. It's the key to success in this country.' "
The criminal justice major had a minor in political science, and had once interned for Los Angeles City Councilman Joe Buscaino, according to the Daily Breeze
In a statement to the newspaper, Buscaino called Zepeda a "stellar intern with a great work ethic, who never missed a day of work … I knew him to be kind and respectable. He was usually in the office early, and the last to leave."
His death, the councilman said, "breaks my heart."
Zepada faced a lot of adversity growing up, but was working hard to become a role model for the community, according to a GoFundMe account that was set up to pay for Zepeda's memorial expenses. As of Monday night, the page had raised nearly $6,500.
Police said a motive for the fatal shooting was not immediately known, and there is no suspect description.
Anyone with information is urged to detectives Cortez or Tiffin at 310-726-7889 or 310-726-7884. During non-business hours and on weekends, callers should dial 1-877-527-3247.
Additionally, anonymous tips can be left through L.A. Regional Crime Stoppers at 1-800-222-8477 or www.lacrimestoppers.org.